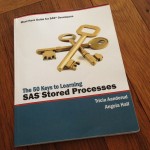 At the SAS® Global Forum 2012 last month I picked up a copy of "The 50 Keys to Learning SAS Stored Processes", the latest book from the dynamic writing duo, Tricia Aanderud & Angela Hall.
As it happens, my partner Michelle also won a copy in a draw so we actually got 2 copies! We met Tricia and Angela in person too, and they kindly signed both books for us. Michelle is giving her signed copy away as a random door prize at our local SAS user group meeting (QUEST) later this month, so if you are in the vicinity of Brisbane at the end of May don't forget to register.
We read the book on the way back from SAS Global Forum 2012. It's a very long trip back to Australia from Orlando but one of the benefits is lots of uninterrupted time to read! I say 'we' read the book because we both read the book at the same time – well we were sitting very close to each other for a very long time, and we both wanted to read it, so it made sense to us. It also seemed to be in the spirit of High Performance Analytics with the massively parallelized hardware and software that we saw at the conference. Actually that analogy doesn't work very well for this story because, to be more aligned, I should have read the even pages and Michelle the odd ones and then thought-transferred the knowledge to each other. However, that would still have only been 2 processors/threads, so perhaps we should have divided the book amongst the whole plane, with a quarter of a page each, and read it in just a few seconds. This is getting a bit of topic now, suffice to say we saw some pretty cool stuff at SASGF12!
The main things I liked most about this book were:
Real world examples that start simple and are updated following an evolving business requirements narrative as the book progresses.
Descriptions of the code side-by-side with the SAS code itself, so you don't have to keep flicking back and forth when reading it.
Visual diffs (differences) of the code, taking advantage of colours and fonts, to clearly showing the additions, changes and deletions as you move through the examples.
The 50 clearly identified keys to take away and remember (a quick reference card for them would be a great addition).
I think the book is an excellent resource for SAS BI developers who are just starting to develop SAS stored processes, as well as experienced developers who want to pick up a few extra techniques. It's a great book for SAS BI developers, so how about SAS platform administrators?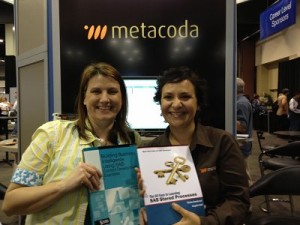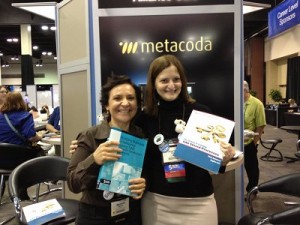 I would say about half of the SAS admins I talk to have an general IT admin background rather than a SAS background. Clearly the ability to write SAS programs and stored processes is not a requirement for SAS administration. However, I do think that if you have the desire to learn SAS programming and stored process development, as part of your admin role, then it will open up a world of possibilities for you. I have been a SAS programmer for over 20 years now and whilst I tend to focus on admin and metadata these days, there are many times where I have been able to be more efficient in my admin role because I have also been able to write SAS stored processes. These have either been to help myself or to partially delegate an admin function to someone else through a stored process. I believe that if you are a SAS admin with SAS programming experience, or one that wants to learn SAS programming and stored processes, then this would be a good book to read.
As an example of the power of stored processes for administrators, Stephen Overton presented a paper at SASGF12 on using SAS stored processes to facilitate identity synchronization between Active Directory and the SAS metadata server (Paper 377-2012: Automagically Herding 101 SAS Users from Microsoft Active Directory to SAS Metadata).
For more info on the book check out Tricia's blog post Peek Inside: The 50 Keys to Learning SAS Stored Processes Available!. In a previous post I also wrote about Tricia & Angela's earlier book Building Business Intelligence Using SAS: Content Development Examples.
If you've read the book too, please leave a comment, I'd be interested in your thoughts. Also, if you're a SAS administrator, let me know whether you use stored processes to assist you in your work too.