Chris Hemedinger's new book Custom Tasks for SAS® Enterprise Guide® Using Microsoft .NET was recently released. If you have an idea for a really useful additional task you'd like to build for SAS Enterprise Guide, I strongly encourage you to read this book and find out how. I certainly got alot out of reading it and learning from Chris' knowledge and experience.
I think I first spotted this book title about a year ago on SAS Publishing's Upcoming Titles page. Since then I had been eagerly anticipating its release, so when it became available I was very keen to read it. I even got to provide a review for it too. You can read my review, along with several others, on the book's reviews page.
One of the things I mentioned in my review was my desire to write a custom task to query SAS metadata from within SAS Enterprise Guide. After finishing the book, going through it a second time to pick up the bits I missed first time around :) , I then busily set about my .. hmm .. well .. 'task' …
…. and then sometime later I had a working 'Metadata Column Finder' task. Here's a screenshot of it in action: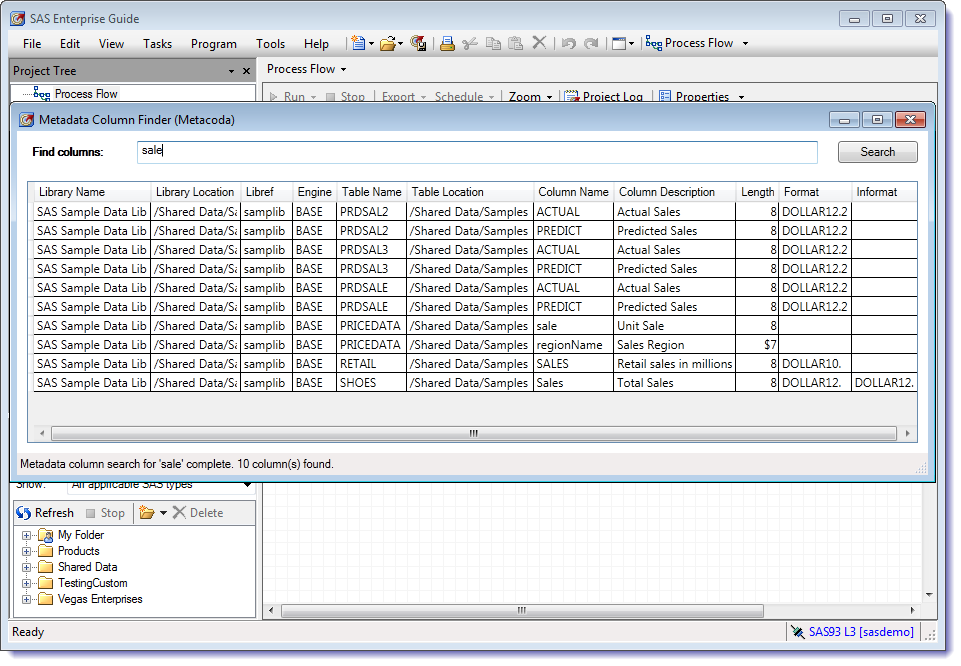 This Metadata Column Finder custom task provides a search facility to help answer the question of "In which columns, in which tables, in which libraries, and in which SAS folders might I find the data I'm looking for?". You type in a keyword or phrase relating to the item you're looking for. It then scans the names and descriptions of all the columns defined in metadata and displays the resulting information about those columns, including the tables and libraries in which they can be found. Since it searches metadata, rather than the dictionary tables, it can also find table columns in libraries which have not yet been assigned (as long as your effective metadata permissions also grant you the ability to find them).
Having read Chris' book, and worked on this, my first task, I'm now even more excited about the possibilities for developing further custom tasks. I've already come up with a few more ideas I'd like to try out.
If you're a keen applications developer, maybe even an ex SAS/AF programmer looking for a new challenge, I'd definitely recommend buying Chris' new book. As I mentioned in my review I think it'll save you a ton of time.
I'd like to thank Chris and his new book for helping me get started in this exciting area.